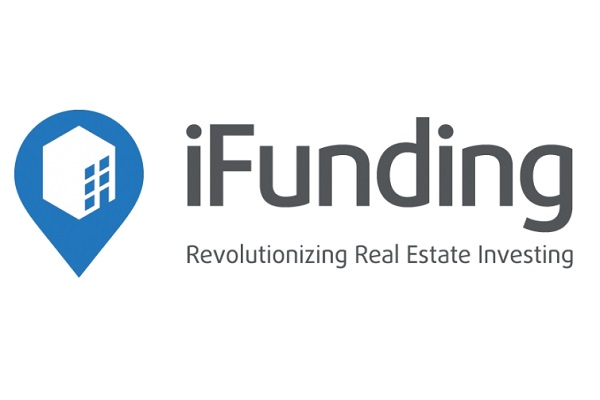 ProudLiving Project Has Been Terminated
My 2nd preferred equity investment on commercial real estate project has been terminated.
It's 36 days from the time of capital commitment to the return of subscription.
The estimated opportunity loss was $3,330.
Funding
In September 2016, iFunding announced a $1.4 million, 2-year preferred equity investment in an apartment portfolio acquisition & renovation in New Jersey. The investment has an estimated 25% preferred return: 9% current return paid monthly & 16% accrual paid at maturity. It was a great timing as I had to find short-term fixed-income investments for the extra cash from balance transfers. I made a $250,000 commitment, and it was debited from my bank account on 10/18/16. iFunding never completed a $1,400,000 raise and terminated the offering on 11/21/16.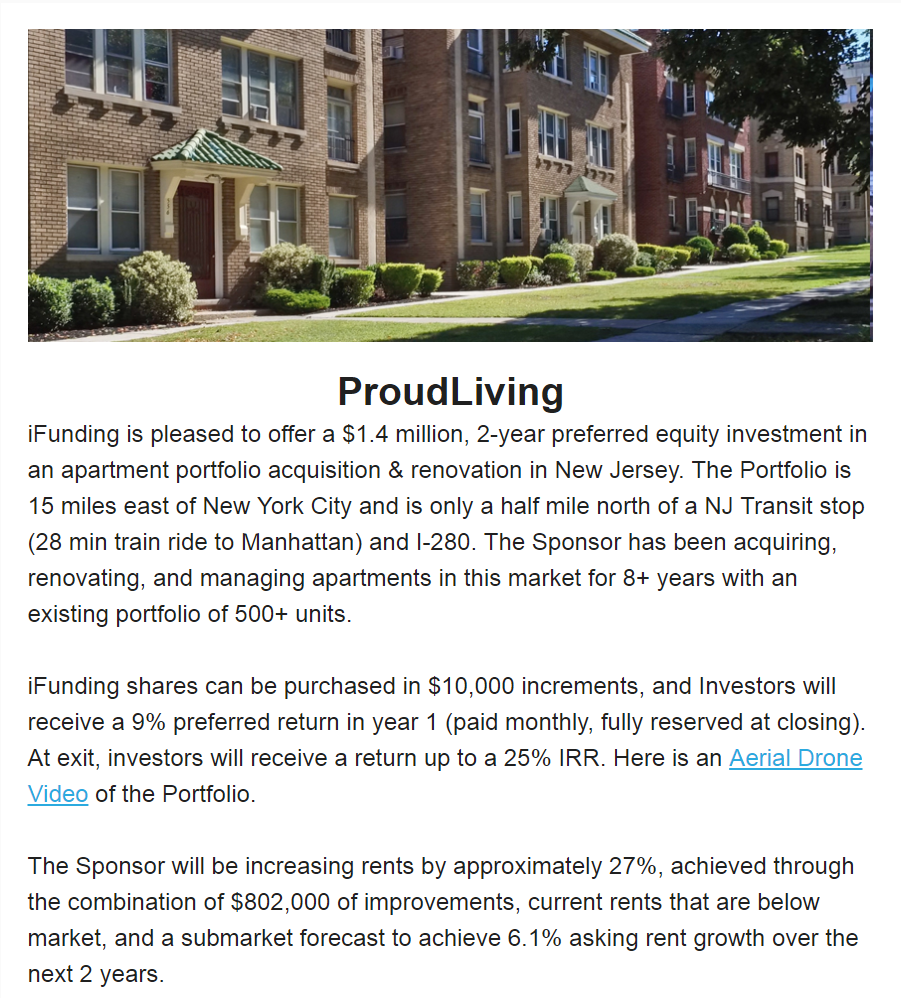 Real Estate Closing Delays
I was in touch with them closely for project timeline to minimize cash drag. REI deals usually take about a month to close. Below is what they've been telling me.
9/22/16. New one should be up later today or early tomorrow. 2 year term 25% IRR
9/29/16. Closing ASAP – 1st week in October – October 4 if we can, maybe October 14
10/13/16. Target date is October 21. This is officially a Best Efforts Raise. They will accept whatever amount we raise. We are hoping to make it tomorrow but may extend as we still have lots of investors circling.
10/18/16 – $250,000 invested.
11/2/16. We are closing ASAP based on the amount raised. We need countersignatures on all the documents – getting all closing items resolved. Friday is realistic, but with multiple lawyers involved it may slip to early next week.
11/15/16. Fighting to get resolved ASAP
11/21/16. We are planning to do a reissue – was taking too long and we were trying to use a 3rd party broker dealer. We are in process of becoming our own broker dealer and/or registering as investment adviser that is going to make our process easier and more efficient. Unfortunately, this project got caught in the middle. You will be receiving formal notification and return of funds has been initiated.
Termination
They kept pushing off the closing date of the project. After waiting for over a month, the project suddenly got terminated.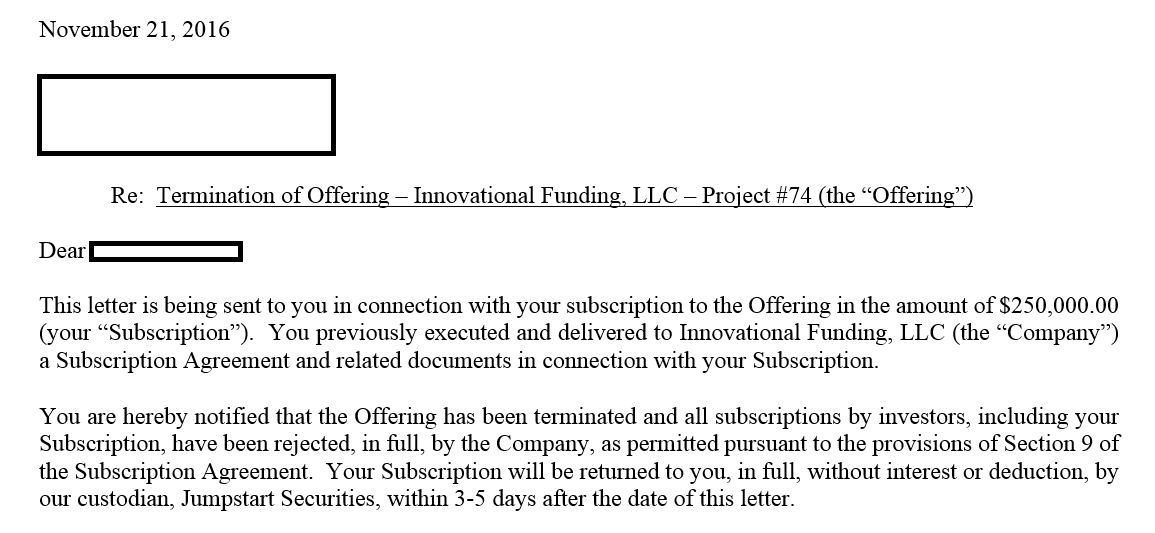 The Impact of Cash Drag
My subscription was returned without interest. The estimated opportunity loss was $3,330.
| Month | Cash Drag | DLI Fund Return | Opportunity Loss |
| --- | --- | --- | --- |
| October | $150,000 | 0.83% | $1,245 |
| November | $251,245 | 0.83% | $2,085 |
Cash drag hurts portfolio performance over the long term. Fortunately I was able to move the remaining funds to DLIF shortly after this. The fund took my last-minute subscription for a December investment.
What's Next
It was quite frustrating, but in the end it might turn out well. With mortgage rates surging following the election, I will stay sideways until the market stabilizes.